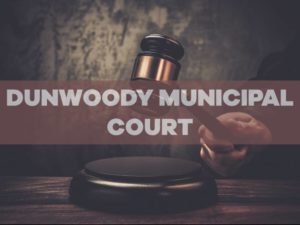 Dunwoody Municipal Court is nestled in an easily accessible office complex very close to the Perimeter Mall. Although it is quite convenient to get to, it is a good idea to arrive early, as parking can be limited on days with a busy court calendar.
The Court entrance is directly across the hall from the Police Department. When you first enter, one of their amazingly patient and charming bailiffs will direct you to the Clerk's window and ask that you sign in.
Once the Clerk has checked you in, you will be ushered through the security screening and into the courtroom. You will be asked to turn your mobile devices off and/or return them to your car. If your phone goes off in court the Judge will have the option of confiscating it.
Dunwoody has more than one judge so if you have to go back to court on multiple occasions you may not be in front of the same judge. That is true of the Dunwoody prosecutors as well. Typically there will be two prosecutors at any given calendar. On the days there is only one however, you can expect that there may be some unavoidable delays.
Normally the prosecutor will take time to speak with anyone who wishes to have a pre-trial discussion with them about their case. This may be the first opportunity you have to find out how the prosecution would like to resolve your case. Although they do their best to move through these conversations quickly, it can still take quite a long time to be reached.
Lawyers will often be called first. This is a professional courtesy extended to attorneys since they are frequently scheduled to be in more than one court at the same time. The court staff understand that other judges around town are waiting for those attorneys to appear in neighboring courts. As a result, it is a normal practice to allow attorneys to speak with the prosecutor and appear in front of the Judge before other people who are representing themselves.
If you are attending court on a "document case" – or rather, a case where you simply have to show your insurance or license was indeed valid on the day in question – make sure you bring your original paperwork! Not all prosecutors or judges will accept electronic copies as proof of compliance.
You will be given the option to plead guilty or not guilty. If you are charged with a traffic offense under State law, you have the right to a jury trial. The bailiffs will give you paperwork discussing this right. Read the paperwork carefully. If you plead not guilty, you will have to designate which kind of trial you are requesting. If you indicate you are requesting a bench trial, then you will also be waiving your right to a jury trial when you sign the paperwork. Once you waive your right to a jury trial you no longer have the right to transfer your case over to DeKalb County. Sometimes this is exactly the right decision. And other times, it may not be.
Talk to a lawyer today to find out what options you have before going to court!